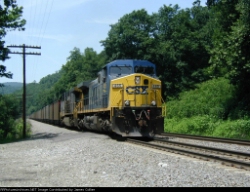 Welcome to the RRPictureArchives.NET contributor site of James Collier.



After moving moving to Knoxville in 1969, I was treated to railfanning at an early age. My Grandfather was a conductor for the Southern Railway out of Sevier yard. He was also one of the few old heads around that could still fire a steam engine. So with the SRR steam program going strong, he would make some of the runs out of Knoxville. I can remember going to the downtown station waiting for him to arrive, and getting to tag along as they deadheaded to Sevier yard. After he was hurt on the railroad around '75, the railroad became a topic not talked about until after his passing. I started railfanning in 1984 after getting married. I mostly have photographed Knoxville and the surrounding areas, with a lot of coverage on the CNO&TP around Oakdale. The past few years I've been making trips to the coal fields of KY, VA and WV. I will be posting my digital items first until I can get a scanner for my slides.

Please enjoy and leave comments. And always, "LOOK, LISTEN & LIVE".



You may browse my collection of pictures via the menu located on the left hand side of the page. I hope you enjoy the collection and thanks for stopping by!
Note: This site is best viewed in Internet Explorer 6.0 or above.
Select one of the links from the menu on the left to begin browsing the collection.